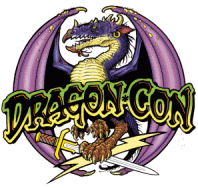 From the website: "Dragon*Con is America's largest, multi-media, popular arts convention focusing on science fiction and fantasy, gaming, comics, literature, art, music, and film."
The Convention is held annually on Labor Day weekend in Atlanta, Ga at the Hyatt Regency Atlanta, the Atlanta Marriott Marquis, and the Atlanta Hilton.
Many Whedonverse actors, actresses, and crew members have been guests at the convention over the years with the 'Buffy' track being one of the more popular programming tracks each year. Recently, Firefly and Serenity guests have become more common and as of the 2007 D*C, the 'Buffy' track has been renamed the 'Whedonverse' track. The website lists the following description of the new track:
"Relive the classic glory days of Buffy, Angel, Firefly, and other cheations from Joss Whedon. While you are out doing your own slaying patrol, stop by the original home of the Buffy Horror Picture Show and sing along with your fellow fans."
External Links
Edit