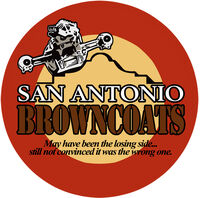 Begun in October 2010, the San Antonio Browncoats merged with the previously existing Alamo City Browncoats (begun in August 2005) and united the Browncoat community in the greater San Antonio area. Hosting Browncoat Luncheons and free screenings of the show, the Browncoats have grown to expect over 100 members per monthly viewing, and have moved to hosting their Shindigs free of charge at movie theater venues to attract a broader audience and continue the Browncoat movement.
A registered nonprofit in the state of Texas, the San Antonio Browncoats support Equality Now, Kids Need to Read, the USO and the Wounded Warriors Project--the final two charities in keeping with San Antonio's nature as a military town, and with the understanding that our soldiers need our support.
Captained by Emily Cleghorn, Crystal Shedrock and Melissa Gonzalez (formerly of the Alamo City Browncoats), the San Antonio crew is a diverse and growing group, with a strong presence in San Antonio pop culture and fandom communities.
External Links
http://www.meetup.com/San-Antonio-Browncoats