Started in April 2004, the BC Browncoats are the British Columbia, Canada Chapter of the world-wide Browncoat movement.

We are a very socially active group, and we love to see new faces join us online and at our events. Our group is also very community minded, and we work hard to do good works for those less fortunate.
Upcoming events:
Edit
Nov 17 @ 1pm - Java Leaf on the Wind Shindig and Magazine Swap Java Leaf Cafe, 4697 Kingsway, Burnaby, across from Metrotown
Come be a Leaf on the Wind ...
Join us for a cuppa and catch up with your fellow 'Coats.
I thought we'd try a Magazine Swap: bring your old Sci-Fi magazines (if you have them) to trade and share.
This will be our chance to say goodbye to Walter and Marli as well.

Dec 15 @ 11:30am - BC Browncoats Christmas Party H.R. MacMillan Space Centre, 1100 Chestnut Street, Vancouver, BC
Details to be decided, but save the date.

April 12, 2008 @ 8pm - Rick Miller's MacHomer! Shadbolt Centre for the Arts, James Cowen Theatre, 6450 Deer Lake Avenue, Burnaby The insanely funny and talented Rick Miller is bringing his incredible production of "television's funniest family performs the Scottish play" and the Browncoats are going because we like funny!
The BC Browncoats raised a whopping $2,600 for Equality Now at our 2007 Serenity Now/Equality Now Charity Screening in Vancouver last June.
See the pictures from the event with our very favourite mechanic: Jewel Staite.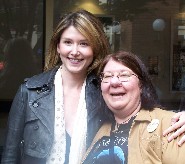 .
Keep Flying!

see also BC Browncoats
External Links
Edit